Bonjour !
The Jeans beetle is certainly the most known special edition among Beetles enthusiasts. This limited edition has been produced in a big number between 1973 and 1975. and is perpetuated, in a more discreet way, repeatedly all along the career of the Beetle.
To find some information about Jeans beetles is not easy thing. I created these pages in 2005 to regroup all information that I could glean on the web, during VW meetings, or on some books dedicated to the beetle.
These pages are not certainly exhaustive. but I hope, with the help of jeans beetles enthusiasts, this site will evolve and will enrich it.
Jean Michel Renaux.

...I hope my English won't be too bad!
---

June 2020:
- A new Jeans beetle, built on August 23, 1973 was identified on the Facebook page VW Coccinelle Jeans. she belongs to Kevin Friquet and was built shortly after the Jeans beetle of Fabien Flis, who remains the oldest recorded to date (see the news of October 2019). The beetle has all its original papers, and for the first time, the U3 code use with the very early Jeans production, associated with the paint code L16M Tunis Gelb, is visible on a factory document. The S761 Jeans page and Identify a Jeans beetle have therefore been updated.



---

- A nice advertisement, dated November 1975, will complete this update. This is a folding advertisement which presents the South African Jeans beetle.
Regarding the South African Jeans, I am always looking for a photo of the blue variant of the series... For years, it's a bit like the Grail quest for this "Denim Blue" Jeans beetle.
Advertising is to be discovered on the page of South african Jeans






October 2019:

- You think you've found a Jeans? you will find here all the information necessary for its identification: Identify a Jeans beetle



- Here's good news for Jeans owners. François Breton ordered covers for a mexican craftsman from the original seats.
You can contact Jesus Chacon Cortes: CONTACT



---

-

The new dean of Jeans beetle is French! Here is the beautiful story that just happened to Fabien Flis. He has recovered a Jeans T out to be the oldest Jeans registred at this date ! According to its production plate, the beetle was built on August 23, 1973. On this same plate, is present the color code U3 instead of the usual E9 color code for the Tunis Gelb, This code seems to be used on the very early Jeans built. This new dean of Jeans beats by one day the previous title holder, Koen Bracke's Jeans beetle built on August 24, 1973.





---
- Seen at Chateau d'Oex in Switzerland, this 1982 Jeansbug with only 200 km. Amazing !






---
May 2018:

- The first gathering of Jeans beetles took place last week-end. 10 Jeans participated at this first edition. Highly motivated participants from all over France, a beautiful region and a great sunshine have turned this gathering into a great moment of conviviality. Great atmosphere and beautiful jeans beetles !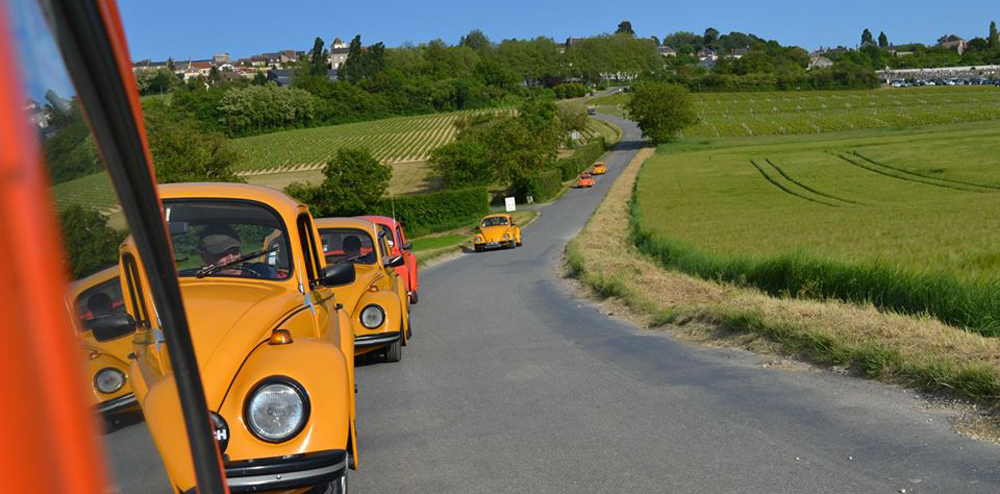 Photo: J.Gremillon-Carré
March 2018
- Update of the MODEL YEAR 1975 page with a nice poster find by Carsten Dettmer.
- Update of the Model year 1982 page.
---
January 2018:
- Anniversary:
The 45 years of the Jeans beetle, it's for 2018 ! to celebrate this anniversary, members of the French Facebook page VW Coccinelle Jeans, will organize a meeting between enthusiasts of this model in may 2018. This is not an official meeting, but rather a meeting of members of the group and everyone comes with his Jeans beetle, his good mood and some gastronomic specialities of his country.
- Who's talking about Jeans beetles ?
Here are the Facebook pages that gather enthusiasts of our favorite vw beetle.
- VW Coccinelle Jeans, the French language page of Jeans beetles owners ! (we speak english too) good atmosphere and mutual help.
- Jeans Bug Kever, lots of pictures. In English and Dutch.
- Jeans Beetle & UK register, the page of UK Jeans beetles led by Andy Gore.
- Volkswagen Jeans Mexico, as its name suggests, the page of Mexican jeans beetles.
- Special Edition Beetles, The SE Beetles Facebook page ! hosted by Colin E Shinkin and Stephen Paul Hardy. Treats all special edition beetles.

- Stickers:
Andy Gore offers a series of stickers to help you restore your Jeans beetle. This kit includes both sides & engine lid script and are the exact replicas in dimensions, lettering and appearance of the original stickers. Andy also offers the technical stickers that are affixed to the beetle. Indispensable to any restoration !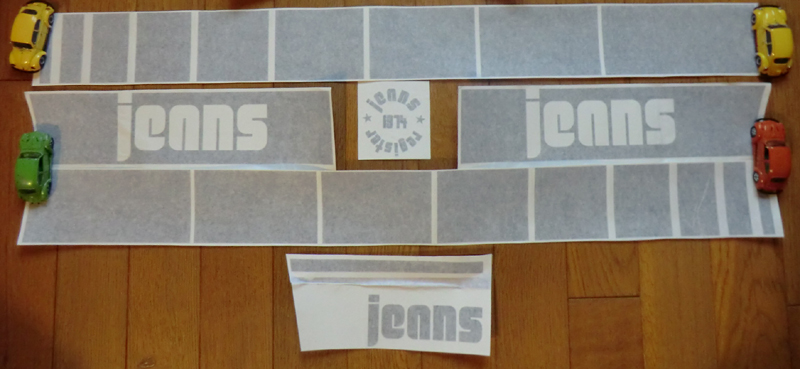 the Body Sticker Kit and the technical stickers.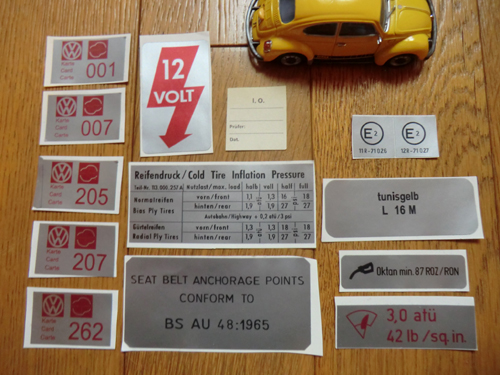 - T-Shirts:
You like Jeans beetles and you want to show it ? these t-shirts are for you. Proposed by Colin E Shinkin, you will find on the website the Jeans S761 (Tunis Gelb) and S714 / S716 (Phoenix Rot). Other special editions are also available (Gt Beetle, Formula Vee ..)






- Update:
Update of model years 1974, 1975 pages with some tips for identifying a Jeans beetle and the "Jeans Kit" page with a VW dealer poster unearthed last year.




December 2015:
-Birthday: Jeansbeetles have 10 years old !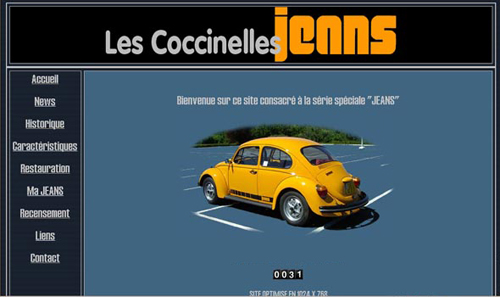 Jeansbeetles in 2005 !
- Addition: Creation of a page dedicated to Mexicans Jeans of the 70s.


- Update:
Update of model years 1974, 1975 and 1982.


Update of the "kit Jeans" page. The photo below allowed me to confirm the existence of a cap and a patch which were supplied with the kit.
Here is the most beautiful discovery of the year ! Two N.O.S Jeans kits !

- Stickers: Do you need stickers for your Jeans beetle ? Geoffroy, an enthusiast of special editions beetles can help you.
Don't hesitate to contact him: Geoffroy

- Census: some new Jeans beetles added.

---
December 2014:
- Update:
Update of the page Model year 1976 (South Africa). Some new pictures, outside and inside, of a beautiful South-African Jeans beetle recently restored. A very interesting and exotic Jeans beetle.

---
- Parisian streets in 1975 ! Florent Gaufreteau (Blog:www.elcamino137.fr), sent me a link of this video showing Renaud, a french singer, in bicycle in the Parisian streets. Besides the very numerous french cars of 60's and 70's, we can see some VW.... and a Jeans beetle !

Florent is also the author of the posters "beetle VW Evolution" with the Jeans beetle.
---
- Census: 2 Jeans beetles added.

---
August 2014:
- Super VW Festival at Le Mans:
Jeans Look: After the magnificent Jeans Bus of Karine seen in the Super VW Magazine n°295, here is a new Bay Windows inspired by the special edition. This one is named to "Camper Jeans". Very nice !

At the end of meeting, I could meet Martine, whose Jeans beetle is registered to the census since several years.

| | |
| --- | --- |
| | |
| Very nice Jeans beetle | nice work on the interior |
---

- Facebook:
Alain, owner of a S761 Jeans, created a Facebook page to join the owners of Jeans beetles. This page already counts 17 members. join us!
https://www.facebook.com/groups/707207879339931/
---
- Census: 3 news Jeans beetles added.
- Archives: news of before 2008 are accessible (some links are not more active)
---
January 2014:
Happy new years !
You were several to ask me the exact numero of the "Paris-Match" magazine where was the french advertisement of the Jeans Beetle "Quand on est une idole, on ne s'habille pas comme tout le monde (when you are an idol, you don't dress as everybody)". It's the Paris-Match numero 1279, dated of November 10, 1973. A real collector !

September 2013:
September 1973 - September 2013: 40 years old ! To celebrate the event, I have up to date the website. Happy birthday Jeans Beetle !
---
February 24, 2008: Hi all ! Here is a small update of Jeansbeetles! No, I didn't stop the research of information about Jeans beetles... but it becomes difficult to find some news.
- Super VW National 2007: A very humid edition... I could meet Aurélien Faquin and his brother, amateurs of Jeans beetles. The first drive a Mexican 95 model and the second in a model... that he invented and the result is very nice ! Here is the jeans beetle "washed stone" with his "faded" cloth assorted to the outside color of the beetle.
---
- On the road again !
This Jeans beetle, driven by Kees and Josette Berger, participated at the Amsterdam-Beijing rally in 2006. 17650 km of adventure in detail on their site:
www.bergerabr2006.tk
Another frenche enthusiast, Florent Gaufreteau, had participated at "le Rallye de l'Europe"
in 1992 with his S716 Jeans beetle.
Florent is the author of the posters "Coccinelle VW Evolution" where we can see a yellow Jeans beetle.

---
Jeans Kit : I ended up finding a set of N.O.S slipcovers, the kit is now complete. I am going to make reprint a set of sticker with the lateral strips, the logos and the famous sewings specific to the Jeans Kit.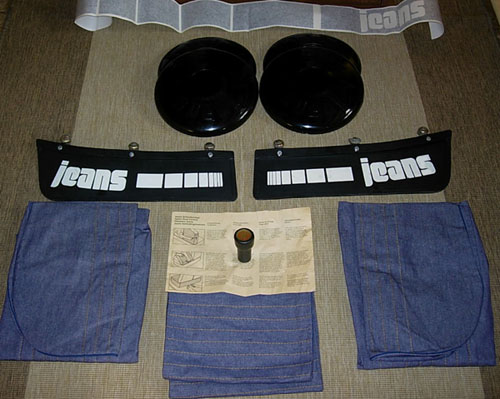 ---
- Update of the page Documents with 3 advertisements of the 1982 Jeansbug from Holland.
- Update of the page collectors with a keyring and a beautiful poster paints with an airbrush.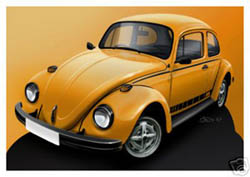 - Update of the page census with news Jeans beetles from Italy, England, France and Slovenia.
- Here are 2 websites dedicated to specials editions "Big" and "Special Bug"
---
December 23, 2006: Small update of the website in this december end. I wish you a merry christmas.
- I have updated the page of the collectors, with a new Jeans item seen on Ebay and a new post card.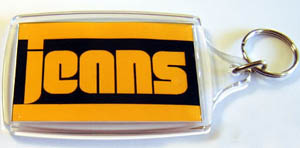 ---
- René, a Dutch internaut, sent me the link of a website showing the "heavy" restoration of his Jeans beetle. A very impressive work! www.volksrepairs.nl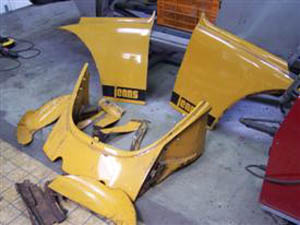 ---
- here, a QSL card of a Wolfsburg's amateur-radio operator, that shows an assembly line where 2 S716 Jeans beetles are assembled . A rare photo seen on www.bugmag.de . Unfortunately, I could not have any other information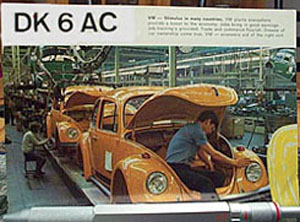 ---
- Found on the web by Geoffroy Lhoest, This Jeans victim of a genetic mutation...
---
- I complete my Jeans Kit gradually. 4 N.O.S hubcaps have just joined my small collection. I research a kit of Seats covers N.O.S or in very good condition (see: Jeans kit). Don't hesitate to contact me.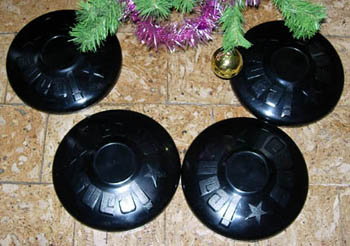 ---
- To finish, update of the page census with 6 news Jeans from Italy, Ireland, Holland, Belgium and France.
---
October 02, 2006: Summer holidays are finished ! I hope that you have fun with your Jeans beetles during this summer.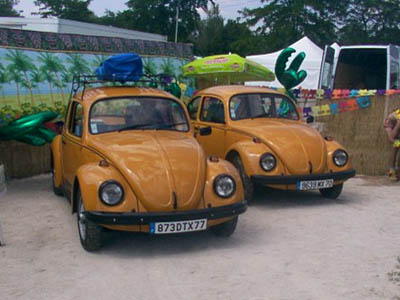 Sandrine and Karim's Jeans beetles to the Seventy's Kafer Team's meeting at Vezoul
---
Here is the last news since the month of June:
- I discovered, by chance, the VW community in Finland and I tried to know if Jeans beetles had been imported in this country. The answer is positive because I could find 3 of them quickly, in beautiful conditions. You can recover them on the page census
I could see only Jeans beetles, S716 editions, and all were equipped of protection of rear fender. It appears that this accessory is very current on the Finnish beetles. Indeed, in the northern countries as Finland or Sweden, there were a lot of gravelroads and this accessory protects rear fender's paintwork from stones and other things. It seems, on the other hand, that it is not an accessory gone up in factory .
---
- After some months of research, here is what I could discover on the very unrecognized "Jeans Kit." This kit permitted to make one Jeans look any beetle. The end of the mystery of the blue or green Jeans beetles? I dedicated a page to this accessory: The Jeans kit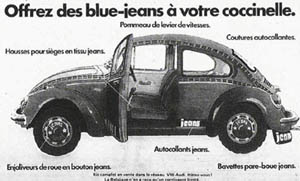 ---
- Jeans beetle in a movie ! Richard, a British internaut, whose parents drove a Jeans beetle, signalled me the existence of an English movie dating 1974 or the hero's buddy drive a brand new Jeans beetle. Several sequences of the movie make appear the Jeans beetle in her environment of the seventies. Discover a sequence of the movie to the page collectors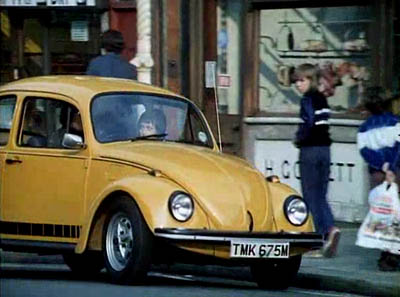 A big thank you to Richard to have made me know this movie !
---
- Rambouillet: The Vintage Classique took place last September 16. As usual, the court of the Bergerie Nationale was full of our favorite VW in original configurations. A few beautiful specimens of post-67 beetles were present of which 3 special editions of the seventies: Bruno's 1303 Big, come from the Pas de Calais, Nicolas's 1302 "World Champion" and my Jeans beetle. We benefitted from this to make family's photo.

---
- To finish, I update the page Collectors, with a new post card.
- Update of the page documents, with a new Dutch ad dating of February 1974.
- Update of the page census, with 8 news Jeans come from France, Italy, Belgium and Finland
---
June 12, 2006: The Super VW National 2006 lived ! A great meeting where I could meet some Jeans beetles owners, all very passionate by this model. I could count and could admire 7 Jeans on the site, of which a rare 95. Next year, we will tempt to regroup all the Jeans beetles present and make a beautiful family's photo.
3 jeans beetles were regrouped on the vintage parking.

A rare 1995 Mexican jeans beetle

Seen at the swap-meet, this bonnet of a 74 Jeans, S716 edition, in L11C BrilliantGelb color.

As promised, I park my Jeans with the beautiful 1303 "Big" of Geoffroy Lhoest, Who comes next year with a 1303 "City" ?

The 1303 "'City", third special edition of September 1973. It's a model become very rare!
---
- I had dreamed to find one (without big hope), the dream became reality ! and New Old Stock ! This pretty gear speed lever, probably an element of the "Kit Jeans" joined my personal collection.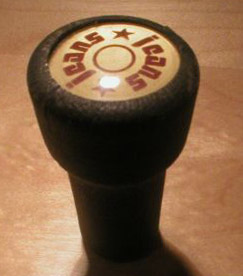 ---
- Update of the collectors with 2 post cards found at the Beetleshop.
- Update of the census page with 4 news Jeans beetles
- I'm looking for information about the "Jeans Kit" , sold in the VW concessions in 1974 - see the page Help me
---
- No comment !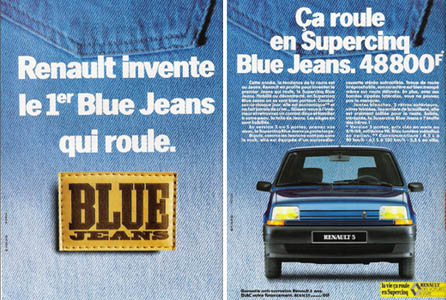 translation: Renault invents the first jeans that drive.
---

May 18, 2006: in 10 days, will take place the Super VW National 2006 at Thenay ! As everybody, I work the details of my beetle to participate at this big meeting. I hope to meet some owners of Jeans beetles there!

- I wrote to the museum of Wolfsburg to get the birth certificate of my Jeans beetle. You will find the procedure to get this certificate at the page files of the site.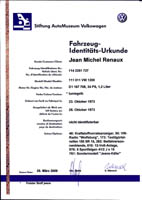 - At the same page, the manufacture of a tool to extract rear wheel bearing (in french)
- Update of the page Documents with a new German ad for 1975 Jeans beetles, sent by Stefan Langer. Vielen Dank Stefan !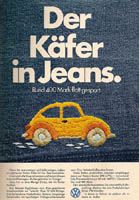 - Update of the census page with 5 news Jeans beetles
---
- Sad but rare old photo of a S716 Jeans beetle ! I hope that this accident with a Citroen 2cv of the Post Service didn't end too badly for the drivers! document transmitted by Geoffroy Lhoest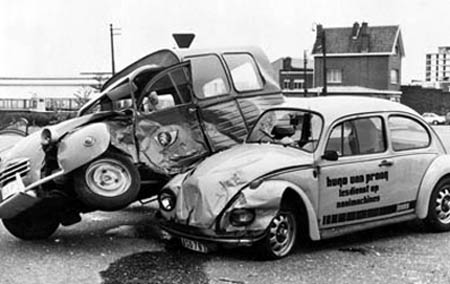 The text on the door of the Jeans is:
"Hugo Van Praag, lesdienst op naaimachines"
(Hugo Van Praag, The service for the sewing machines)
---
- To finish, a photo of the beautiful "Big" beetle of Geoffroy Lhoest. The" Big" is a special edition appeared at the same time as Jeans beetle and, as them, "Big" beetles must be restored now !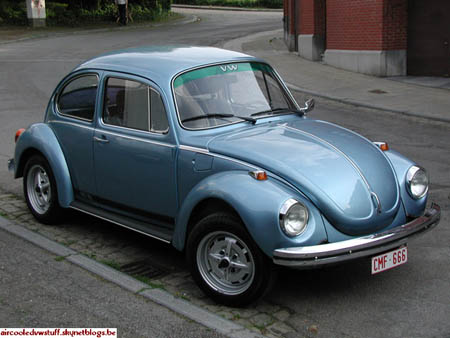 http://resto1303big.skynetblogs.be/
---
January 26, 2006: Hello, and as it's not too late, I wish to all visitors of the site, an happy new year 2006!

- New on this site, a page of classified ads: for sale. This page will be dedicated to the sale or the research of Jeans beetles, of spare parts of Jeans or Goodies having a report with Jeans beetles. Useless therefore to send me an announcement for parts for oval window or 48 IDA carbs for an Old School project, I would not publish them.

- Update of the census page with 8 news Jeans from France, Italy, England and Germany.
- I suppressed (temporarily) the page of the prototypes. I'm in waiting of information to this topic.
---
To finish, Stefan Langer transmitted me some documents about the Jeans Polo ! left in 1976, this special edition of the Polo takes the features that made the success of the Jeans beetle: flashy bodywork and Jeans upholstery ! pretty isn't it ?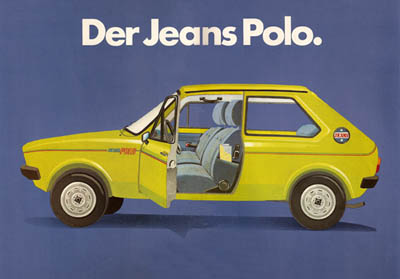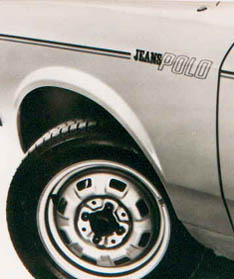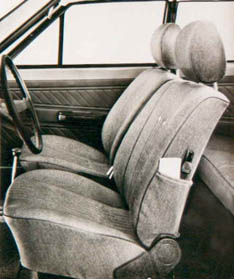 ---
December 1st 2005: Hi all, the winter came back ! It is time to bring your Jeans beetle in the garage and to lavish her some care. For mine, the disassembly of her gearbox for a good cleaning is in forecasting. If you don't have anything of foreseen in the immediate, you can thumb the additions and updates of the pages of this site :) !

- Update of the Details pages: model year 1974, model year 1975 , model year 1976 , model year 1982
- Update of the census page or come to be added 4 Jeans beetles.
- Update of the collectors page
- Update of the links page
Two new pages:
- A page dedicated to the prototypes and other models of presentations.
- A page dedicated to the advertisements, documents of agents and other articles of press: Documents
---

I have a contact with two owners of yellow Jeans beetles. One of them comes of very far... indeed, Pierre, its owner brought back it from France to Nouméa, in New Caledonia! A beautiful travel for this Jeans that is going to be restored soon.
They indicated me the paint code L11C "Brilliant Gelb" and not the L13M "Saturn Gelb" as I had announced it. The upholstery of these Jeans is in the green color
---
Finally, and to finish this update, this Jeans beetle with a "vintage" look seen on an English meeting ! étonnant non ?
---
September 27 2005: 10 days of vacations in Jeans beetle ! A jaunt of nearly 2000 km to go to the excellent vw show of the Cap d'Agde, in the south of France, last September 10 and 11.
| | |
| --- | --- |
| | |
| An "Aubergine beetle" in very beautiful condition. Beetles constructed after August 1967 is not even recognized to their just value in France, some models are yet as rare as of Splits or ovals windows... | On the way home, visit to the Tommy's Dinner Café, near Toulouse. It missed only some Hot Rods or other American cars to be back in the fifties... |
---
I updated the accessories and collectors pages with some novelties, and 3 Jeans beetles, from Belgium, Italy and France, join the census.
---
August 24, 2005: Hello ! I begin to collect some infos on the different models of Jeans, more especially on the models year 1974, I would put update this page shortly.
Seen on the net, a Mexican Jeans beetle surprised on a site of auction. Its metalized color (Violettmetallic indicates the classified ad) surprised me a lot. I hope to have some infos on this car.
---
Also seen on the web, the new Jeans (New) Beetle ;-) !!
---
To finish, 5 new Jeans beetles have been added to the census.
---
July 26, 2005: English version available
---
July 1st: The site is on line! I hope that this website exclusively reserved to Jeans beetles will please you. you're welcome !